Aisan Noodle Salad With Dipitt Soya Sauce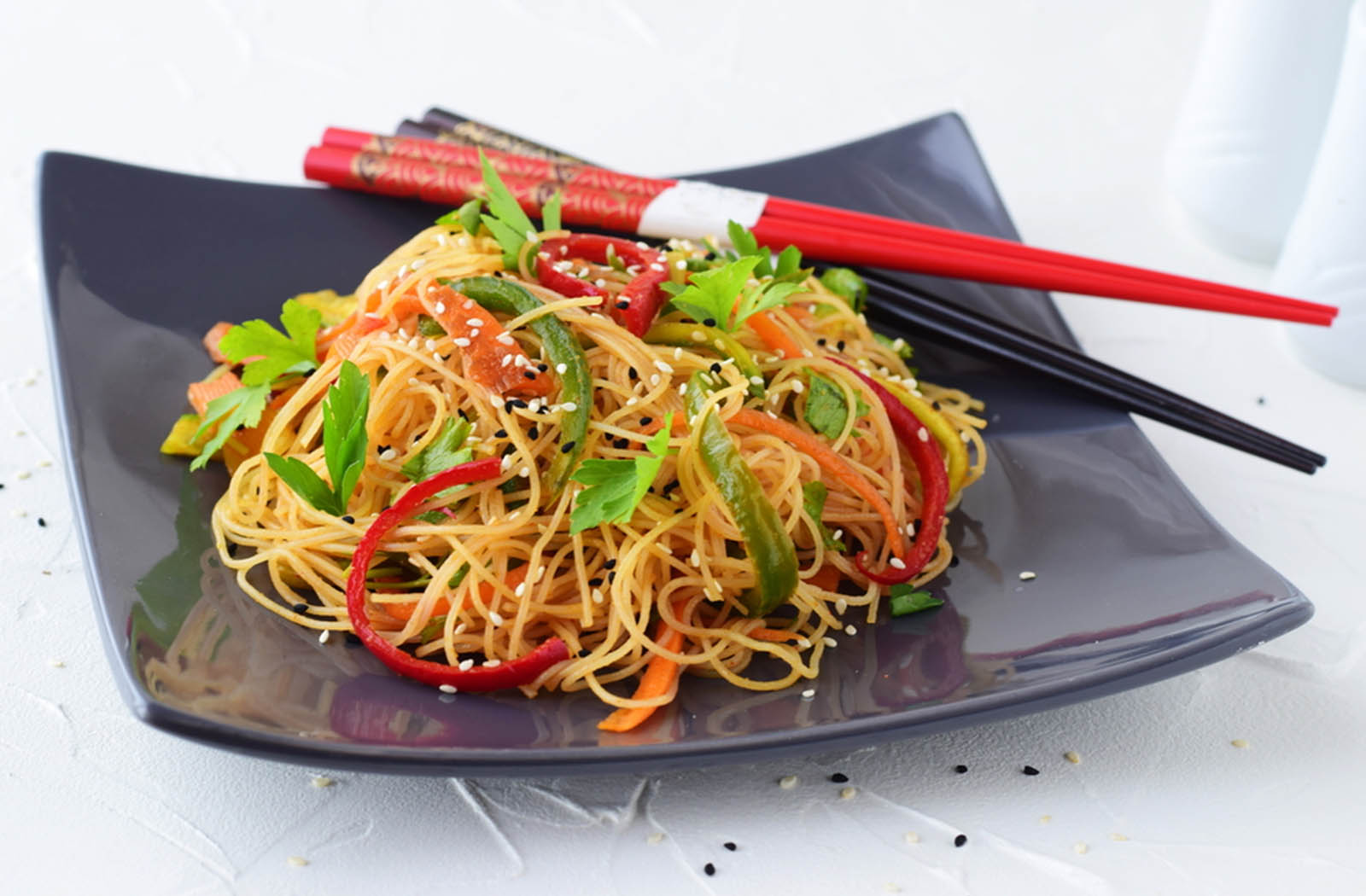 We all know that we love Asian noodle salad a losweet and sourt. Lots of colorful veggies tossed in with noodles make a perfect salad for any time's meal.The amazingly beautiful colors of purple cabbage, red bell peppers, carrots and steamed broccoli makes it pretty and mouth-watering impression.
Here is a trick that we would like to share with you. After cooking the noodles, let them dry and then use Dipitt soy sauce to dry them alone so they absorb the flavor of the Dipitt soy sauce. Then toss in your preferred vegetables you are using plus a sweet and sour, ginger garlic sesame dressing.
Pizza is one of the most delicious savory dishes, which has Italian origin. This is a round loaf topped with lots of ingredients such as cheese, tomato, onion, and other ingredients. Then, chefs bake the pizza at a high temperature. Traditionally, Italians enjoyed flattened base bread and various toppings in a wooden-fired oven. In the modern world, chefs cook it in an electric oven. The small size of the pizza is called pizzetta.
Pizza is one of the most famous dishes in the world. All of the countries in the world – or the majority of them – have a pizza shop that serves amazingly delicious pizzas. As pizza is available in various countries around the world, local food culture also had an impact on the pizza taste. So, different countries cook pizza sauce and pizza dough differently. For instance, pizza in the Indian subcontinent has tikka toppings, kebabs, and more.
Ingredients of Pizza Recipes
Following are the main ingredients of the pizza:
All-purpose flour 2 cup
Tomato ketchup 100 ml
1 tomato
2 onion
Chili flakes 1 teaspoon
Baking powder 1 teaspoon
Sugar 1 teaspoon
Mozzarella 1/2 cup
Dry yeast 1 tablespoon
Water as required
Processed cheese 100 gm
4 mushroom
Capsicum (green pepper) 1/2
Oregano 1 teaspoon
The direction of Cooking of Pizza
One of the most difficult steps of a pizza recipe is kneading its dough. For kneading dough, take a plate and put all-purpose flour in it. Then, add 1 teaspoon oil to it. Take the warm water and add the yeast. Make sure to add 1 teaspoon sugar in the all-purpose. Till here, most people make the best dough. But from now on, it is the kneading skills that will make the perfect dough. You should knead the dough for 10-15 minutes. Then, keep the dough aside for 15 minutes. In these minutes, it should rise and become fluffy. Once, the dough has risen completely, you can start making a pizza.
After the dough has risen, cut all the vegetables and place them in a bowl.
Then, flatten a piece of dough in a round shape. Pizzas are available in cylindrical or circle shapes. So, roll the dough in a circle shape.
Brush up the dough surface with tomato sauces and other sauces. Try to pour a good amount of tomato sauces on the dough surface.
Then, add vegetables, chicken, and other toppings over the flattened dough surface area.
Add the cheese in the last so that the yumminess of cheese looks mesmerizing on the top of the pizza.
Note: Serve the pizza with tomato ketchup and garlic mayonnaise.
Pizza is one of the most favorite dishes of children and youngsters around the world. Start making pizza at home to serve healthy and fresh food to your family members.
Aisan Noodle Salad Ingredients
10 ounces  noodles
1/3 cup Dipitt soy sauce
2 – 3 cups raw bite-sized broccoli florets
4 ounces mung bean sprouts (about 1 1/2 cups)
3 green onions, thinly sliced white and green parts
1 red bell pepper (cut into 1-inch long pieces)
1 large purple cabbage, thinly sliced about 2 cups
1 large carrot, peeled.
Aisan Noodle Salad Dressing
1-inch piece of ginger, chopped
1 medium clove of garlic, chopped
4 Tablespoon white sugar
1 teaspoon crushed red pepper flakes
1/3 cup canola/vegetable oil
1/3 cup unseasoned rice vinegar
4 teaspoons dark sesame oil
Aisan Noodle Salad Preparation
Cook The Noodles:
First of all, use a large size boiling pot and add 4 quarter of water in it along with the noodles and let the noodles cook. If you are using Chinese noodles then do not add the salt as it is already salted. But if you are using pasta noodles then add a tablespoon of salt in the water. Must stir the noodles frequently while cooking as it takes 5-7 minutes in properly cooking. After that, drain the noodles, rinse with cold water and let the noodles to get dry & cool.
Steam Cook the broccoli:
Add 3-4 quarter water in a large size pot on a steamer rack and boil the water.  Add the broccoli florets in the boiled water and steam cook for 4-5 minutes. Then remove from the pot, rinse with cold water and keep aside.
Toss Cooked Noodles With Dipitt Soy Sauce:
Put the cooked noodles in a large serving bowl. Toss with Dipitt soy sauce to coat perfectly and let the bowl aside to absorb the soy sauce.
Make the dressing:
Use a mini chopper or food processor and put the sugar, ginger, garlic, red pepper flakes and pulse until well blended.
Toss Dressing With Noodles, Then Add Vegetables:
Add the dressing to noodles which was infused with Dipitt soy-sauce and tossing to coat completely. Add sliced green onions, cooked broccoli, sliced bell pepper, sliced cabbage, shredded carrot, mung bean sprouts and you are all set to serve.