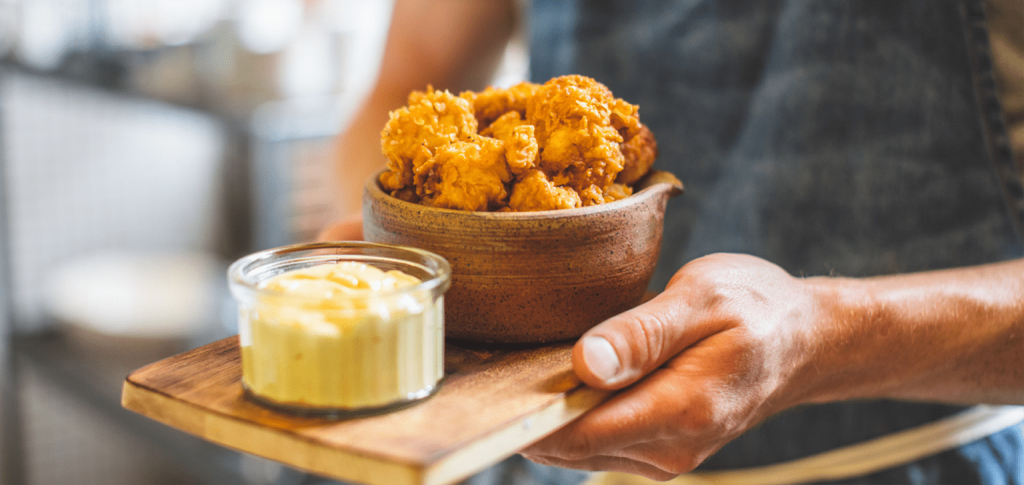 8 chicken thighs, skinned and deboned

1 cup buttermilk

1 egg

1/4 cup finely chopped fresh chives

1/4 cup grated Parmesan cheese

3 tablespoons Dipitt soy sauce

1/2 teaspoon Dipitt Buffalo hot sauce

Juice of 1 lemon

1 teaspoon salt

1 teaspoon freshly ground black pepper

Vegetable oil, for frying

1 cup flour, for dredging

3 eggs, beaten

2 cups panko (Japanese) bread crumbs

Honey-Mustard Dipping Sauce

1/4 cup mild yellow mustard

1/4 cup honey

Salt and freshly ground black pepper
In a large bowl, marinate the pieces of chicken in buttermilk. Cover with plastic wrap and leave in the refrigerator overnight.
Heat oil in a deep fryer. Drain and discard the buttermilk.
In a food processor, combine the marinated chicken, egg, chives, Parmesan, soy sauce, garlicflavored hot sauce, lemon juice, salt, and pepper. Blend until a smooth paste is formed, about 1 minute.
Make about 2-inch by 1-inch nuggets, lining them up on a baking tray. In a shallow bowl, add the flour and in a second bowl the beaten eggs, and in a third bowl the panko bread crumbs. Coat the nuggets in flour, then egg, and then the panko crumbs and place the nuggets back on the tray.
Deep fry in small batches until golden brown, about 5 minutes. Alternately, heat 2 tablespoons of vegetable oil in a large skillet and fry, turning every 2 minutes, for about 10 minutes.
For the dipping sauce: Combine the mustard, honey, salt, and pepper in a bowl and mix well.