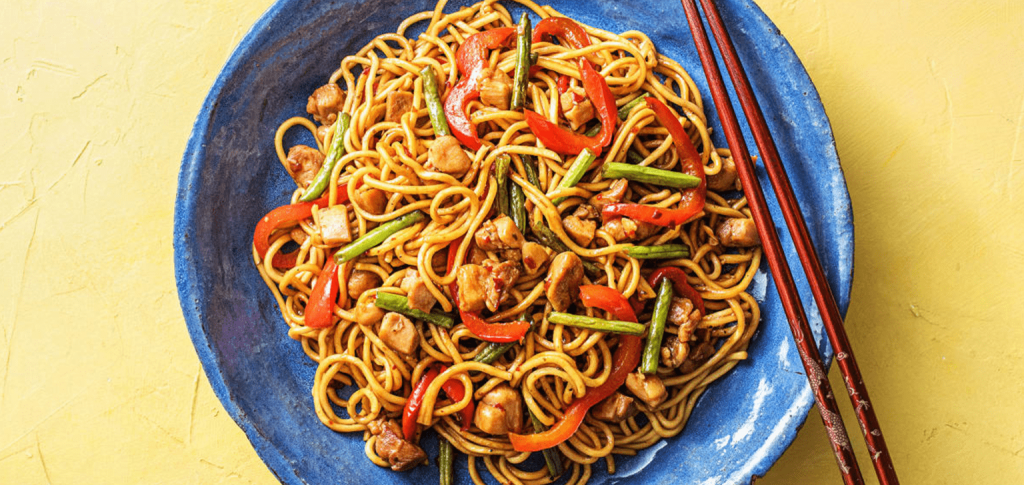 5 ounces medium egg noodles
1 teaspoon sesame oil, plus more as needed
11 ounces skinless chicken breasts, sliced into strips

Dipitt soy sauce

1 teaspoon five-spice powder

1 teaspoon Dipitt chili

1 tablespoon cornstarch
2 tablespoons groundnut oil (peanut)
1 red bell pepper, seeded and finely sliced
5 ounces bean sprouts
1 large spring onion (green), sliced lengthwise
Freshly ground black pepper, finely ground
Cook the noodles for 3 minutes in a pan of boiling water until al dente, or as per the package instructions. Drain, then run them under cold running water, and drain again. Drizzle with a few splashes of sesame oil, and toss through to prevent them from sticking.
Season the chicken with Dipitt soy sauce, the five-spice powder, and Dipitt chili sauce. Mix well. Coat the chicken breasts lightly with the cornstarch.
Heat a wok over a high heat, add the groundnut or peanut oil, and heat until smoking. Then, add the chicken, and stir-fry for 2 to 3 minutes, or until cooked through.
Add the red bell pepper, and stir-fry for 1 minute, then add the bean sprouts and green onion and stir-fry for less than 1 minute. Add the cooked noodles, and season with 1 teaspoon toasted sesame oil, and black pepper, to taste. Stir well and serve immediately.